• Jan 28, 2020
FrostPharma is launching OXISKIN® PLUS as a hand disinfectant in a practical spray bottle of 100 ml. OXISKIN® PLUS contains uniquely stabilized hydrogen peroxide 3% which prevent Norwalk virus that causes winter vomiting disease. It is also effective against the coronavirus.

OXISKIN® PLUS hand disinfectant provides effective protection against viruses, bacteria and fungi. According to the EN-test 14476 it kills calicivirus with >99,99% which causes winter vomiting disease. The EN-test is also proving effect for most viruses including Coronavirus, Rotavirus, Ebolavirus, Hepatitis A, parvovirus and influenza virus.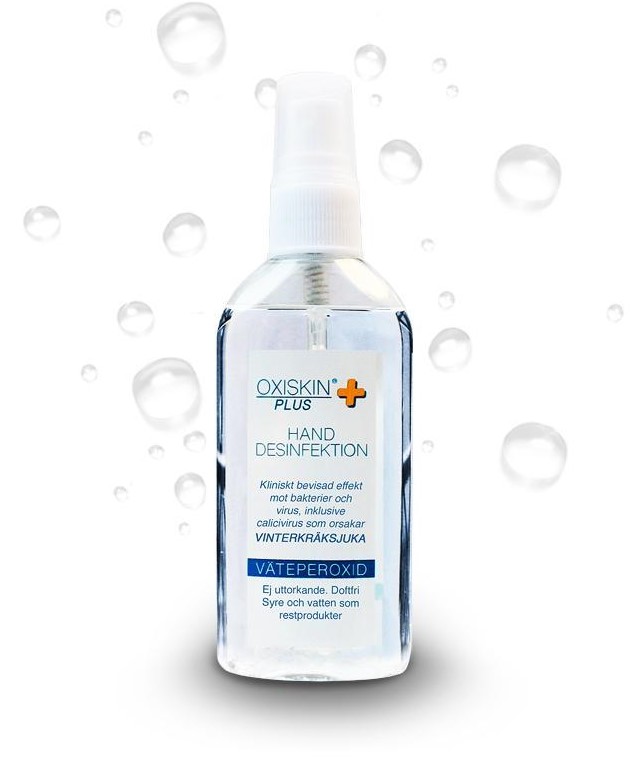 OXISKIN® PLUS is odourless and neither sticky nor drying. After use, it is converted to oxygen and water. It gives effective protection in the same time as it is gentle on both the skin and to the environment.

"It is incredibly exciting to launch OXISKIN®PLUS which can effectively reduce the risk of winter vomiting disease and show the effect on several other viruses such as Coronavirus. We have received a very positive response from infectious doctors, healthcare professionals, pharmacy staff and consumers as there is no similar product on the market." says Clas Lindbergson, CEO of FrostPharma.
OXISKIN® PLUS
Effective protection against the winter vomiting disease
Effective against bacteria and most viruses including coronavirus
No taste, smell or colour
Environmentally friendly
Not flammable
Not dehydrating in frequent use
Visit www.oxiskin.se for more information
Short fact about Calicivirus (winter vomiting disease/Norwalk virus)
The Norwalk virus is caused by calicivirus. This virus is very contagious, and a sick person is able to secret large quantities of virus through stool or vomiting.
Virus can survive for a long time in any type of environments and can infect through textiles.
The incubation time is 12–48 hours and the symptoms are nausea, vomiting, diarrhoea, abdominal pain, headache and fever. It is also possible to carry the virus without any symptoms.
The virus can be spread in different ways: directly or indirectly contact with an infected person, through food handled and contaminated by a person who is, or has recently been, sick. It can also infect through raw seafood or vegetables that has been contaminated with sewage.
Short fact about Coronavirus
In the beginning of 2020, a new coronavirus (n2019-CoV) was confirmed in China, which can be spread between people.
The incubation period for coronavirus is 2–14 days.
The virus causes respiratory problems with fever and cough. Severe illness has affected people with underlying diseases.
The infection is airborne, but transmission of the virus by hands can most likely occur.
FrostPharma AB
FrostPharma, based in Danderyd, Sweden, is specialized in the introduction, distribution and marketing of pharmaceuticals and pharmacy products in the Nordic region. For any questions, please contact Clas Lindbergson +46 706 581 180 or clas.lindbergson@frostpharma.com